What We Do:
We have everything you need for all your special occasions and party planning needs:
Invitations (Hebrew/English Typesetting & Design Experts), Kippot, Benchers, Tallitot, Judaica, Gifts, Gift Baskets, Favors, Jewelry, Menorahs, Yads, Art, Rosh Hashanah Cards,
Kiddush Cups, Bridal & Dressy Accessories, Bar/Bat Mitzvahs, Corporate Events, Party Consulting, Themes/Novelties, Travel Agency & much more... Wholesale/Retail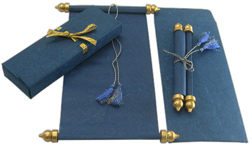 Exquisite Scroll &
Brocade Invitations
"Featuring the latest trend in Unique Invitations, Invitation Scrolls are stunning yet affordable," Modern Bride Magazine.
Royal Scroll Invitations made for Kings, Queens and Celebrities are now available to you!!


Send a FREE Electronic Greeting or Invitation online to a friend or loved one, click here.