Online Party & Gift Superstore Tel: (954) 894-8775
Fax: (954) 416-6684
E-mail: Info@MazalTovPages.com
Monday - Friday 10:00 A.M. - 5:00 P.M. (Eastern)

Back to MazalTovPages.com Sterling Silver - Main Page
If you want to return to the page that you were on previously, do not click on the link above but use your browser left arrow to bring you back to where you were before.
*Prices subject to change without notice and depend on the flactuating prices of the gold and silver markets. Plese check current gold/silver pricing prior to placing your order.
Sterling Silver Chais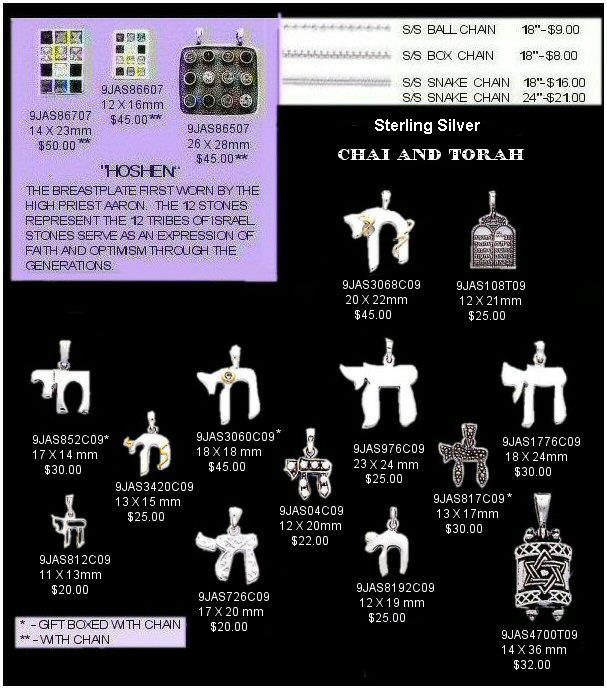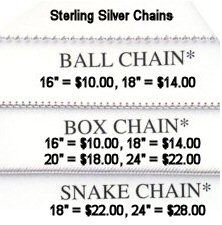 *Sterling Silver Chains are sold individually.
(Some of the sterling silver pendants shown above come with chains.)

Our Exclusive Chai Fashion
Couture and Jewelry Line
A portion of every Pink Chai purchase is donated to Breast Cancer Research Foundation
Please help find a cure; fight cancer and other life threatening diseases by wearing "Chai" for Life, click here.
Celebrate Life: "Be 'Chai' on Life; Wear Chai for Life," I.N.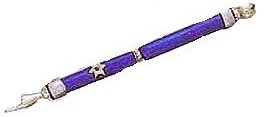 Back to Main Sterling Silver Jewelry Page
Home - About Us - Invitations - Judaica Store - Advertising Benefits - Contact Us
Disclaimer - Privacy Policy - Merchant Policy
Web Design by Irene N. Designs. Please contact us for more information.
Please click here to view inspirational work written by the site's president.

Copyright © 2000 - Present MazalTovPages.Com, Inc. All Rights Reserved.